Program Philosophy
In partnership with parents, the primary goal of MBS Athletics is to instill belief in our student-athletes. Belief in:
(1) Hard Work…getting us to where we want to go. We are rewarded if we consistently work hard.
(2) Jesus…guiding us during our sports journey. We must listen to Him.
(3) The Eastern Shore…as a place that can produce top athletes. We must take pride in Delmarva. (#4shore)(Prior MBS Athletes)
MBS Athletics facilitates multi-sport participation at a critical stage in our student's lives. Participation in MBS sports makes our students more physically and socially well-rounded and helps prevent athlete burnout. We know our families have committed a lot of time and money to sports outside of school. We look to provide a middle school sports program that complements those investments.
"There may be people who have more talent than you, but there's no excuse for anyone to work harder than you." – Derek Jeter
"If you do the work, you get rewarded. There are no shortcuts in life." – Michael Jordan
"There is always someone out there getting better than you by training harder than you." – Pele
The backbone of success is…hard work, determination, good planning, and perseverance." – Mia Hamm
"Today I will do what others won't, so tomorrow I can accomplish what others can't." –Jerry Rice
"Whatever you do, do it wholeheartedly, as if you were doing it for the Lord and not for others, since you know that you will receive from the Lord an inheritance as your reward; you serve the Lord Christ."– Colossians 3:23
Athletic Handbook PE Syllabus Our Methodology: LTAD Methodology Chart
Middle School Sports
Co-Ed Soccer (Grades 6-8)
Co-Ed Golf (Grades 6-8)
Girls Volleyball (Grades 6-8)
Girls & Boys Basketball (Grades 6-8)
Girls Softball (Grades 6-8)
Athletic Director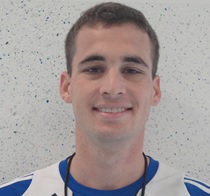 John Haskell, RAA, CIC
410-208-1600 Ext. 151
jhaskell@mbscs.org
Fall 2023 Schedule
Girls Volleyball Schedule (2023-2024)
Co-Ed Soccer Schedule (2023-2024)
Co-Ed Golf Schedule (2023-2024)
Required Forms
Sports Physical Form (Download Form) Medical History (Fill Out Form Online) Parent Contract (Fill Out Form Online) Participation Waiver (Fill Out Form Online) Transportation Waiver (Fill Out Form Online)
The MBS Advantage:
Multi-sport participation is encouraged.
We will work with our athletes so they can play on our teams and their outside teams.
Not specializing in one sport too early is physically and mentally beneficial for athletes.
When kids play multiple sports, they can be put in different positions and play a different team role in one sport compared to another.
Participating in multiple sports allow athletes to use different muscle groups.
Take advantage of peak height velocity (PHV).
PHV is the fastest rate of growth a child will experience outside their first year of life. 

The average age for PHV is 12 for girls and 14 for boys.
Accelerated improvement in aerobic capacity and strength occurs when a child is experiencing their PHV.
Regular and sustained exercise must happen for the accelerated improvement in aerobic capacity and strength to occur. MBS can provide the trainings through our sports program.
Keep your high school options open.
We offer athletes the ability to play middle school sports now and choose their high school later.
We will not pressure you to attend one high school over another because we are not affiliated with any in the area.
We want you to develop with us and then move on to the public or private high school of your choosing.
Individualized plans.
All student-athletes, even those excelling, grow and develop according to their own unique timeline.
We are willing to work with parents to create the best possible plan for a child so they can enter high school mature, ready and prepared.
Middle school sports in Maryland.
Maryland public schools do not offer middle school sports.
At MBS, your Maryland child can gain invaluable interscholastic sports experience. Experience most of their future peers in high school will not be getting.
Friday 12:00pm dismissals.
We have approximately ten 12:00pm dismissals throughout the academic year.
Our academic calendar facilitates participation in travel team tournaments and competitions.
School schedule conducive to outside sports.
From year to year, the start and end times of public schools change due to bus transportation needs.
Earlier start times can make morning sport practices difficult to attend.
Later end times can make afternoon sport practices difficult to attend.
Our school day will not start before 7:30am or end after 3:30pm making it easier to attend outside practices.
Go to school with other serious athletes.
The personal aspects of athletic performance such as nutrition, proper hydration and psychological training are important to develop.
Having other serious athletes (from a wide variety of different sports) train, eat and study with your child will help them establish and maintain good habits and routines.
FAQs for Parents:
REQUIRED FORMS?
We have forms that must be completed before an athlete is cleared to play. The required forms can be found here: https://mostblessedsacramentschool.com/forms/. They include: (1) Physical Exam Form- Completed within the last year. Send physical copy into school. (2) Medical History Form- Completed Online (3) Parent Contract- Completed Online (4) Participation Waiver- Completed Online (5) Transportation Waiver- Completed Online.
PARTICIPATION FEE?
We collect a sports participation fee at MBS. Each player must pay $50 for each sport they play. The fees are collected to pay our game officials and buy plaques/medals for our end-of-season recognition ceremony. Any left over funds go to buying new equipment and jerseys. The participation fee can be paid by cash (in an envelope labeled with the child's name) or by check made payable to MBSCS.
TRANSPORTATION?
We are dependent on parent-volunteers for our away games. We do not provide bus transportation. Each student must complete and turn in a transportation waiver (found here: https://mostblessedsacramentschool.com/forms/) if they wish to travel with another family from MBS. Parents are responsible for finding a ride for their child and must communicate with the other parent before game day. Then an email must be sent to the athletic director specifying approval.
ROLE OF THE PARENT?
Parents can volunteer to coach, help at the scorers table, help with marking the fields or help with our away game transportation. We ask MBS parents on the sidelines to remain positive and respectful to everyone.
TRY-OUTS?
We do not have try-outs at MBS. However, we sometimes have reserve/developmental players. For example, in golf, our matches are usually against 5 players max from another team. Therefore, if we have 10 MBS golfers…5 would be our regular players (determined by coaching staff), 2 would be our reserve players (attend all practices, pay sports fee, play when a MBS player cannot attend a match) and 3 would be our developmental players (attend all practices, do not pay sports fee).
5TH GRADERS?
5th graders are allowed to play golf and softball at MBS. However, their parents must help coach to ensure their child has a good experience.
OPPONENTS?
We mostly play against other small, private schools on the Eastern Shore. Some of the schools include Worcester Prep, Seaside Christian Academy, The Salisbury School, Salisbury Christian, Epworth, Holly Grove, Delmarva Christian, Lighthouse Christian, Sussex Academy, Sts. Peter & Paul and The Country School. At the high school level, most of these schools are members of the Eastern Shore Independent Athletic Conference (ESIAC).
EARLY DISMISSAL?
Players are dismissed early (around 2:15-2:35pm) for our away games. This is to ensure they have a spot in the carpool and to get them to the host school on time.
GAMEDAY SCHOOL ATTENDANCE?
Students must be present for a half day or longer on gameday. This means the student-athlete must be at school for 3 hours in order to participate in the game later that day! Medical appointments and other extenuating circumstances must be discussed beforehand with the athletic director.
MULTI-SPORT ATHLETE?
While we encourage multi-sport participation here at MBS, players cannot play more than one sport for MBS in a season. It presents commitment issues due to our game schedules.
CELL PHONES?
Cell phones are to be used by MBS players for two reasons only: (1) to coordinate transportation (2) to communicate an emergency. MBS players may not take out their cell phone and use it as an entertainment or social media device. As it shows a lack of commitment and self control, habitual offenders of this rule will be asked to leave their team. We ask parents to support this policy. Instead, players should cheer on their school, learn through observation and socialize in-person.
WEATHER CANCELLATION POLICY?
We try to communicate any weather cancellations by 12:00 (Noon) on game day. However, for away games, the host school has discretion. Occasionally, if the forecast is pretty clear cut, we are able to communicate a weather cancellation the night before. Please understand communicating early is to help our upper-Delaware families and their school transportation needs.
GRADES/DISCIPLINE?
All student-athletes must have a 76 or higher in all classes. Any repetitious, unproductive behavior by a MBS student may result in him/her being denied admission to a team or removed from a team.
SPORTS RECOGNITION CEREMONY?
All team athletes and their parents are invited to attend an awards assembly at the end of each season (usually 3 weeks after the last week of games). Athletes and coaches are honored for their season and individual/team awards are given out.
SPORTS OFFERED?
We currently offer co-ed soccer, co-ed golf, girls volleyball, boys/girls basketball and girls softball. Lacrosse and baseball are also being explored.
UNIFORMS?
MBS Student-Athletes are solely responsible for their uniforms throughout the season. Responsible means bringing the uniform on game day, washing the uniform correctly/regularly and returning the uniform at the end of the season. If the uniform is not returned, a bill will be sent to the athlete. A bill will also be sent if the uniform is damaged because of incorrect cleaning, neglect or misuse.
Prior MBS Athletes:
Be sure to follow our former MBS athletes as they now compete in high school and college. These student-athletes are leaders on the field and in the classroom. They consistently receive athletic and academic honors. The list will be updated as we receive more information.
High School Class of 2022, MBS Class of 2018:
Piper Bandorick- Field Hockey- SDHS
James Barrett- Soccer- SDHS–> Radford University (D1-Soccer)
Colin Fohner- Lacrosse- SDHS –> Harford College (Lacrosse)
Peyton Hagy- Lacrosse- SAAS–> West Chester University (D2-Lacrosse)
Ryan Kilroy- Basketball- SAAS
Hannah Short- Lacrosse- SDHS
Ashten Snelsire- Football & Baseball- SDHS–> University of Richmond (D1-Football)
Caroline Taylor- Dance- SDHS –> College of Charleston (Dance)
Madison Tipton- Swimming & Soccer- IRHS
High School Class of 2023, MBS Class of 2019:
Brendon Bradford- Basketball- IRHS–> Delaware Valley University (D3-Basketball)
Julia Carlson- Volleyball- SDHS
Gabriel Clark- Golf- IRHS
Harper Edmunds- Field Hockey- SDHS
Gracie Engle- Lacrosse- SDHS
Casey Gabbard- Basketball- Parkside HS–> Elizabethtown College (D3-Basketball)
Adam Gardner- Baseball- SDHS –> Randolf-Macon College (D3- Baseball)
Roman Keith- Baseball- IRHS –> Salisbury University (D3- Baseball)
Ryan McLaughlin- Baseball- SDHS –> University of Delaware (D1- Baseball)
Luke Mergott- Football & Baseball- SDHS–> Duke University (D1-Football)
Audrey Mumford- Lacrosse- SDHS–> Salisbury University (D3-Lacrosse)
Sandra Pawlowska- Dance- SDHS -> University of Maryland (Dance)
Tatum Vorsteg- Volleyball & Lacrosse- SDHS
High School Class of 2024, MBS Class of 2020:
Brooke Delahanty- Volleyball- SDHS
Tayler Flaherty- Volleyball & Soccer- SAAS
Daniel Genga- Baseball- Delmarva Christian
Katelynn King- Soccer, Basketball & Softball- SDHS
Kevin Myers- Cross Country- TSS
Josephine Peranteau- Field Hockey, Basketball & Softball- Delmarva Christian
Grace Short- Field Hockey & Lacrosse- SDHS
David Wanalista- Golf- SAAS
Kolten Zender- Baseball- SHHS
High School Class of 2025, MBS Class of 2021:
Frankie Buxbaum- Football, Basketball & Lacrosse- SDHS
Gianna DePietro- Field Hockey- Parkside
Blake Ell- Football- IRHS
Brandon Fitzgerald- Track- SDHS
Theresa Hayes- Volleyball- SDHS
Isabel Mitchell- Lacrosse- SDHS
MaryAnn Rutzler- Cheer- SHHS
High School Class of 2026, MBS Class of 2022:
Alex Behornar- Baseball- IRHS
Kassidy Behornar- Swimming- IRHS
Jack Bradley- Football- SDHS
Olivia Evans- Basketball- IRHS
John Fohner- Lacrosse- SDHS
Brody Lynch- Football & Lacrosse- SDHS
Ashton March- Lacrosse- SDHS
Chloe March- Lacrosse- WP
Laila Pascucci- Soccer- SDHS
Michael Peranteau- Football- IRHS
Joshua Strawhecker- Soccer- Delmarva Christian
High School Class of 2027, MBS Class of 2023:
Caiden Clark- Cross Country & Swimming- IR
Carly Culver- Golf- SDHS
Hayden Esworthy- Softball & Volleyball- SDHS
Lila Gunther- Basketball & Volleyball- SDHS
Mason Heatherington- Golf- SDHS
Rebecca Kemp- Volleyball- SDHS
Hailey Lewis- Volleyball- SDHS
Makenzie Littleton- Volleyball- SDHS
Dominic Marinelli- Football & Baseball- IR
Kaelyn MacGuinness- Softball- Delmarva Christian
MadaLynne Rutzler- Volleyball
Nolan Soares- Football & Baseball- SDHS
"There may be people who have more talent than you, but there's no excuse for anyone to work harder than you."
– Derek Jeter
"If you do the work, you get rewarded. There are no shortcuts in life."
– Michael Jordan
"There is always someone out there getting better than you by training harder than you."
– Pele
"The backbone of success is…hard work, determination, good planning, and perseverance."
– Mia Hamm
"Today I will do what others won't, so tomorrow I can accomplish what others can't."
– Jerry Rice
"Those who trust in the Lord shall renew their strength; they will soar on wings like eagles."
– Isaiah 40:30-31